Copper Chimney Caps
---
Timeless beauty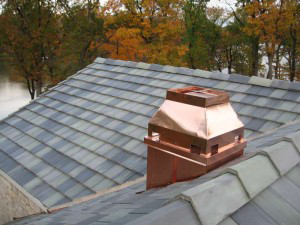 Copper; a truly distinctive accent found throughout time on the most distinguished architectural designs. The ability of copper to blend with and unify building materials such as stone, brick, slate, and tile is an attribute that is unparalleled. The supple patinas inherent to copper, over time, bring forth it's ageless character and endearing beauty.
Enduring Functionality
Over time copper has proven itself in both "form and function". It's application are varied and unique. At times it is the aesthetic value that is preeminent in the decision to use copper. Then again at times it is function that predicates the use of copper, as is the case with awnings or shallow pitched roofs where ice damming is a concern. At ARL we can be there for you and the concerns that your have for you application.
ARL, were here for you!
Here at ARL we are equipped with our own custom copper sheet metal shop. Providing our customers with a full line of architectural metal fabrication. This enables us to meet a wide array of applications in a timely and extremely cost effective manner. We fabricate and install the following: standing seam, copper roofs, copper awnings, copper eaves, copper flashing, copper gutters , copper downspouts, and clean outs.